Sadly the opportunity to take Virtual Reality to the House of Commons has evaporated. It turns out the reception was to be held in a marquee somewhere in the grounds of the House Commons with obvious restrictions of space and services. However in the process of discussion with the Arts Council we have gained lots of brownie points which should be useful in future funding bids.
Our free activity to create chain links on the 28th October was a success and brought in 25 new visitors who made the links. Thanks to Ryan and Gordon. Hopefully we will have enough links for them to be incorporated in our art feature. We have continued with commissions.
The Innovation area have completed stunning 3D prints of the teachers from Littlegarth School.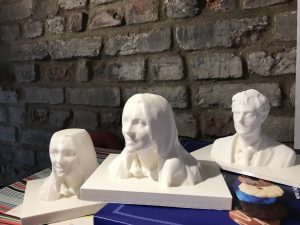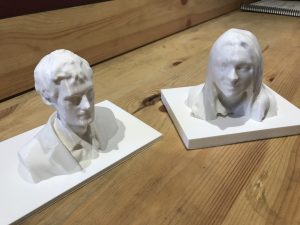 It appears as though our Digital Studio might be moving forward and we are planning a meeting on the 12th Nov 6.00 pm at Tonic Health to start planning for a future funding bid.
I have had to alter a number of events in the coming weeks.
first Sunday Forge opening has cancelled – hopefully reorganise for later in the month
All day taster changed from 17th to 24th November
Market Stall changed from the 10th to 17th November due to the Remembrance celebration
Directors Meeting – 8th Nov 7.30 – We would like to develop a competition  to be run early next year to be called the Rose Competition which will encourage school children to talk to their parents and grandparents and record their memories of events in South Holland. However we would like your input.
A footnote to this update is I have had surgery on last Friday and it was more invasive than planned and it will limit my input at the Forge for a couple of weeks. Please can you help.