A couple came into the Forge today, they were related to Edward Fisher who was the Blacksmith at the Forge between 1850 and 1898. I think he was the great, great, great grandson. But what was strange was that he lived in Maldon Essex about 5 miles from where I use to live and we had a number friends in common.
Gordon Bjorn (Gordon Kennedy) are friendly Viking was our Blacksmith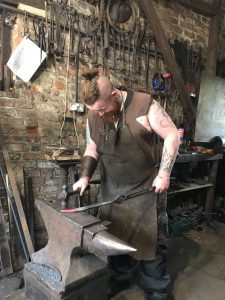 Scott look after the Innovation Area and Ashley Pavlovic popped and hopefully make a return to the Forge.