Bringing history to life…
Chain Bridge Forge is a living museum where our resident blacksmith still practices this traditional trade – forging beautiful pieces and teaching a new generation about what life was like in days gone by.
Admission to the museum is free, so enjoy a day to remember and plan your visit now.
Try It Yourself
Join one of our taster sessions and work with our resident blacksmith to try this traditional trade and make your own item to take home with you.
Treat Yourself
Give your home or garden the individual touch and treat yourself to one of the beautiful pieces which our resident blacksmith has created at the forge.
Here at Chain Bridge Forge we have revived the Blacksmith's craft within its original setting, and created a Living Forge. Both on site and online, we demonstrate the blacksmithing skills and techniques that would have been used by the Chain Bridge Forge Blacksmiths, and others like them the world over.
For centuries blacksmiths were at the centre of every community, providing the essential services of shoeing horses, making and mending metal tools  and wheels. The Forge is a fascinating example with many original features and closely tied to Spalding's history as a port and market town.
Chainbridge Forge's resident blacksmith believes in keeping the old tradition of blacksmithing alive and is keen to pass on his skills to future generations. Chain Bridge Forge has a proud tradition of blacksmiths which dates back to the mid 1700s.
Latest News from the Forge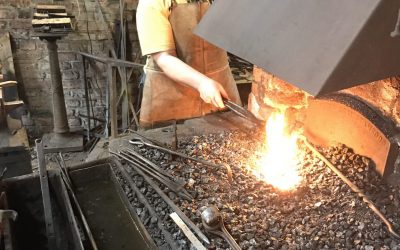 Diane enjoyed her day in the Forge we are looking forward to her next visit.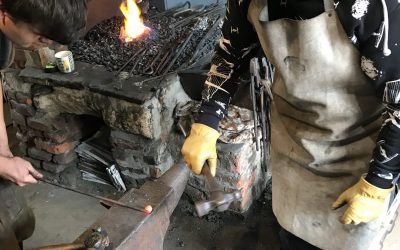 Pleased to help Edward with his Duke of Edinburgh award today. He is with us to learn a new skill and conduct volunteering. Today he made a coat hook with us.
I was really pleased to see that all of you had done such a great job of getting the place going again, I hope it stays operational for years – its so important that it does, and what a credit to everyone involved. -Andy Saunders
As a Spaldonian of more than 50 years' standing, but now an exile in the far north of Scotland for the last 20 years, I was delighted to discover that Chain Bridge Forge has been made into a living, working museum -Mike George
I would like to extend my hearty thanks to the blokes who had my two daughters and myself making our own coat hooks today. An excellent experience that will be treasured. We will be back again in the future o learn more. -aussiemike
Contact Chain Bridge Forge
Visit us, email us or give us a call to find out more about what's on offer at Chain Bridge Forge.
Address
Chain Bridge Forge, High Street, Spalding, Lincs, PE11 1TX.
Subscribe to Our Newsletter
Stay up to date with what's happening at Heritage South Holland by signing up to our newsletter.